Our Focus
We specialize in cultural integration planning and facilitation for mid-market organizations that utilize M&A as a tool for their strategic growth and competitive positioning.  Among the many reasons organizations utilize M&A as a core business strategy – the fundamental purpose is to increase economic positioning and capabilities.  We understand however that the key factors driving success are the effectiveness of your leadership, the integration of your cultures and the alignment of your people.  It is the establishment of a unified executive leadership team that will drive performance, enhance productivity, and build bottom line opportunities.
Leadership Assessment & Development

Executive Leadership Team Engagement & Alignment

Cultural Integration & Facilitation

Due Diligence & Strategic Planning

"Go to Sale" Management Preparation
Our Approach
Our structured integration plans and change management methodologies provide a framework to plan and execute a successful change for both the people and the business.  We partner with you to understand your leadership and cultural profiles, defining strengths, and potential barriers to performance. We develop integration teams and leadership development strategies so that your key stakeholders are positioned to make the integration a success.  Finally, we implement strategic communication channels that cast vision, build value, and create alignment throughout the enterprise.  The following reflects our primary areas of focus: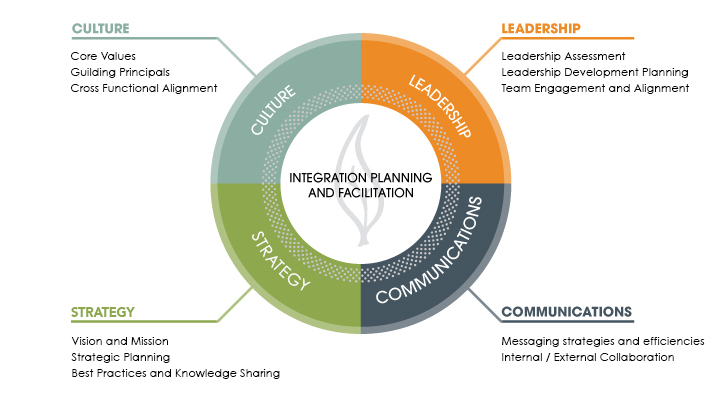 Our Services
Click here for a list of our individual services.